Partnerships for Regional Innovation (PRI) was the theme of an international workshop held during the face-to-face meeting of the ARIES4 project in Karlstad on October 25, 2023. Johan Stierna, a researcher at the European Commission's Joint Research Centre (JRC), emphasized the importance of being proactive in the ongoing transformation of mobility, energy, and society.
– Simultaneously with our time's major challenge, climate change, there is a historic transformation happening in terms of both mobility, energy, and societal systems. It's a transformation that requires a choice for all EU territories, regions, and stakeholders. You can either proactively change or passively be changed and risk being left out, said Johan Stierna, the lead researcher in the pilot study for Partnerships for Regional Innovation (PRI) at the European Commission's Joint Research Centre.
PRI Aims to Strengthen EU's Innovation Efforts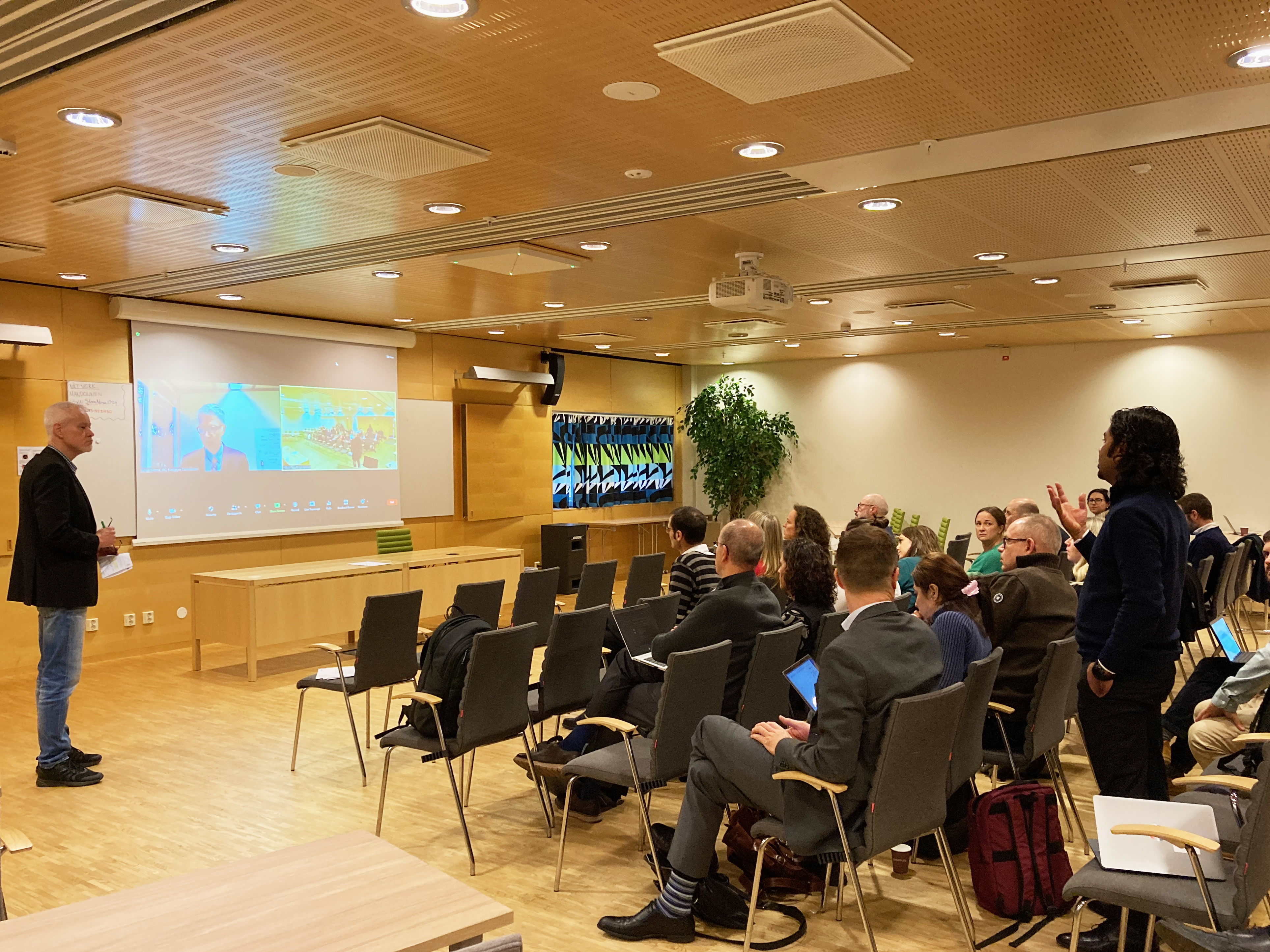 Positive regional experiences with the work on smart specialization strategies across the EU underpin the European Commission's commitment to Partnerships for Regional Innovation (PRI). Within PRI, various tools are being tested to enhance the coordination and direction of innovation work at regional, national, and EU levels, while addressing the innovation gap in the EU. PRI is an approach firmly rooted in the EU's policy framework, thus supporting the implementation of climate policy in the European Green Deal, the research and innovation program Horizon Europe, the cohesion policy in Cohesion Policy, and the economic recovery package NextGenerationEU.
Johan Stierna emphasized that the ongoing transformation is a matter of destiny. How actors and businesses act at the local, regional, national, and EU levels are crucial for competitiveness, sustainability, and security at all levels of society.
– This is a high-stakes game where the EU faces significant competition, primarily from China and the USA. You cannot resist this change. If you do, you will be out of a job in ten years. There will be winners and losers in the transformation. Therefore, it's also important to look at the fairness perspective and the consequences the transition has on social sustainability.
So, what needs to be done? According to Johan Stierna, it involves transitioning from a centralized system to a decentralized one, locating manufacturing industries near energy production, using circular methods and models, and creating local and regional value chains.
– The EU invests a lot of money in thousands of regional development projects across EU regions. At the regional level, it's essential for decision-makers to develop their systems to monitor ongoing projects and involve the region's stakeholders. Therefore, besides monitoring regional development, regions also need to look at ongoing efforts and how their results can be used. Moreover, effective strategies must be disseminated and exported so that other regions can learn, said Johan Stierna.
Need for Changed Perspectives and Combined Policies
After the lecture, a follow-up session was held where regional strategists for smart specialization, known as S3 Managers, from the participating regions in the ARIES4 project discussed their own experiences with sustainable smart specialization strategies.
– We have a long and extensive experience at the regional level with various policies for technology, innovation, and growth. Now we must break down these silos; we must change the perspective and combine different policies. It's not easy, but it will entail more complex regional programs that combine various policy tools. This is the only way to achieve results, said Luis Goñi, Regional Strategy Director at Sodena, who, on behalf of the Spanish region of Navarra's government, works on coordinating and implementing the regional strategy for smart specialization.
He was supported by the other S3 Managers, who added that new approaches must be characterized by a clear focus.
– It's essential to chart a sustainable direction for regional work. Conducting 'business as usual' and only adding a sustainability perspective will not work, said Anders Olsson, Research and Innovation Strategist at swedish Region Värmland.
Companies Need More Knowledge and Experience Sharing
Another challenge for the transition at the local and regional levels is companies' lack of knowledge about essential concepts and approaches such as circularity and value chains, meaning utilizing, reusing, and recycling resources to avoid final waste.
– In the Danish robotics and manufacturing industry, we are currently looking at the circular economy, value chains, and indicators for sustainable development. What data should companies collect, and how should monitoring be conducted? Companies want to be part of this, but due to a lack of knowledge and experience and the absence of a standard, many are waiting for someone else to take the lead. I believe we need to link companies at the local level, work in a local context, said Julie Clausen, Project Manager at the Danish Technological Institute, an independent organization with the goal of promoting technical innovation, competitiveness, and sustainable development in Denmark and internationally.