CRE8® is a method of creative problem solving in competition form, in which students develop innovative solutions to a real-world challenge posed by a company or other organisation. In mid-February, participants from the ARIES4 project came to Karlstad University (KAU) to learn about the method and to participate in a live CRE8® workshop.
In essence, a CRE8® workshop involves multidisciplinary student teams testing their problem-solving skills in competition with each other and pitching their solutions to a jury. The focus of the problem solving is a challenge formulated by a company or other organisation who acts as the 'task owner'.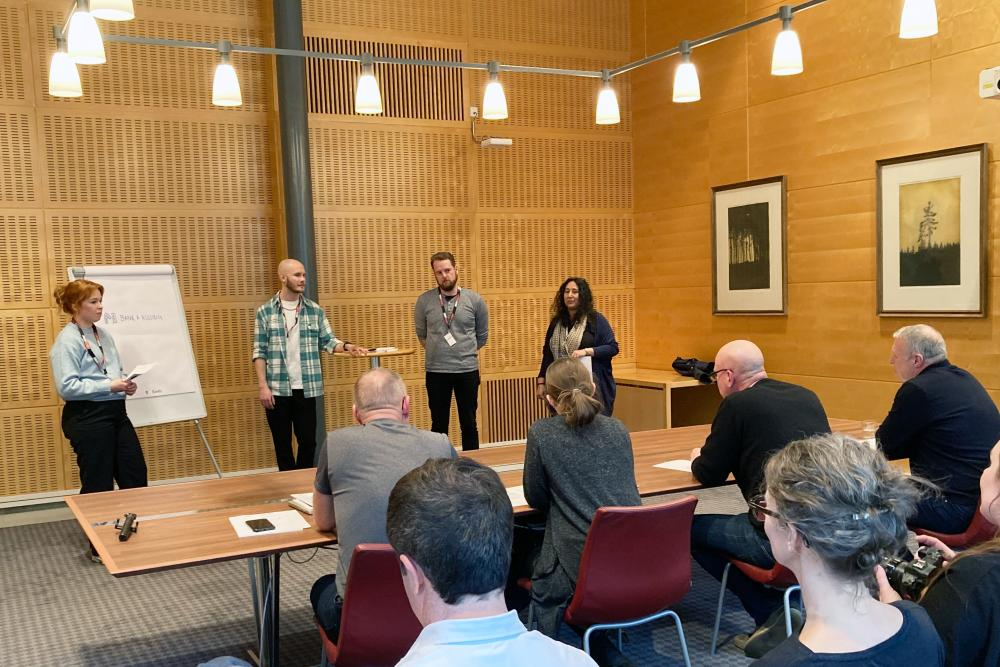 Companies are helped to think in new ways
The aim is to train the students to solve real problems and to develop team-working skills as a valuable experience for their future working lives. At the same time, the task owner gains new perspectives and ideas through the students' pitches and proposed solutions.
– Through CRE8®, the company can use the students' creative ability to find innovative solutions. The result is therefore not a new product or a new service.
The outcome of the pitches is instead that a company or an organisation gets help to think in new ways about an identified challenge, says Patrik Bångerius, Innovation Advisor and CRE8® organiser at KAU's Grants and Innovation Office.
In the EU-funded ARIES4 project, several CRE8® events are to be carried out in the four participating European regions (Värmland, Funen, Gabrovo and Navarre). Between 14–16 February, project participants from Odense, Gabrovo and Navarre came to Karlstad in Värmland to learn the CRE8® method in a 'train-the-trainer' event.
In addition, they were able to observe a live CRE8® workshop in which students from KAU, Karlstad Technology Centre and Hammarö Wood Technology College acted as problem-solvers for the timber group Moelven.
Important to formulate general challenges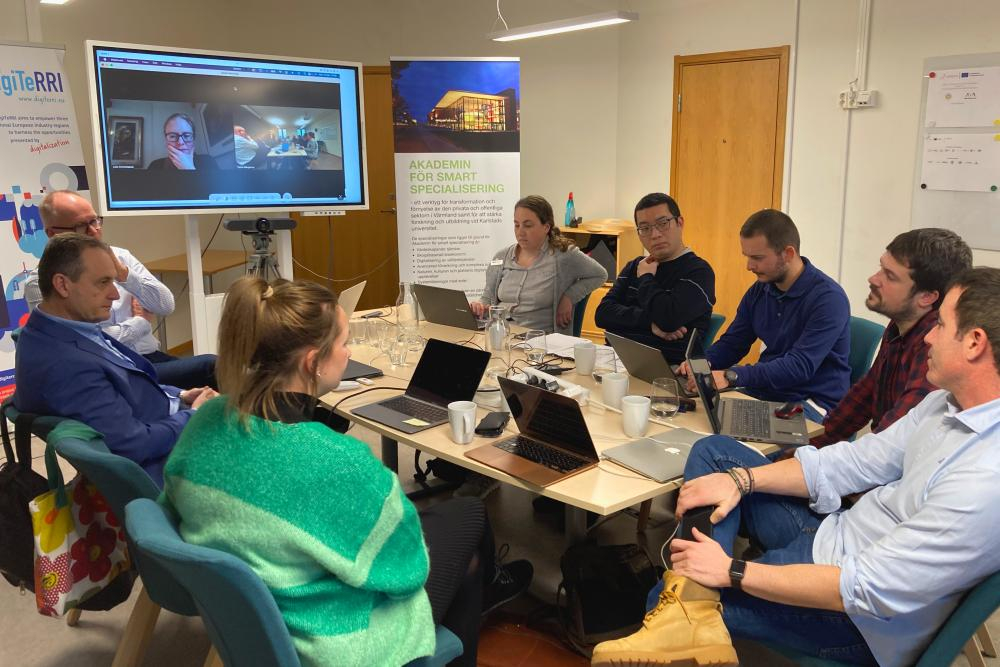 A CRE8® workshop takes around six to seven hours and, in order to maximise creativity, students come unprepared. They are not informed about the challenge or the task owner organisation in advance.
After some instruction on pitching techniques and the jury's assessment criteria, the organisation and its challenge are presented to the students. The students then have four hours to find creative and innovative solutions to the challenge without computers or mobile phones.
The pitch itself may take a maximum of five minutes and is performed in front of a jury of four people, of which at least one person must be trained in CRE8® and at least one must come from the day's task owner.
– The students themselves must be unprepared, but finding and formulating the task owner's challenge requires preparation. The challenge must be reasonably general but still well-defined. Therefore, it is important that someone who is CRE8®-trained assists the task owner in formulating the challenge, says Patrik Bångerius.
The challenge presented to the students in Karlstad was "How can Moelven become an attractive employer that offers a place for the whole family and for different lifestyles?". It is a challenge, rooted in social sustainability, that is of relevance for all employers who operate in sparsely populated areas.
– The hope is that the CRE8® events that will be arranged within the framework of the ARIES4 project can spark wider creativity and innovation. The proposed solutions that come to light in one region can hopefully also benefit other regions, says Patrik Bångerius.
Ready to prepare their own CRE8® events
The ARIES4 project participants were pleased with the meeting in Karlstad and returned home with inspiration, knowledge and the tools to be able to set up their own CRE8® events in their own regions.
– CRE8® seems like a great concept because it promotes creative solutions to problems. When you've worked for a long time in a company or industry, it's easy to get stuck in the same old ways of thinking. This method can really bring new perspectives and I expect great interest among our member companies to implement CRE8®, says project participant Harry Bogdanov from the Regional Innovation Center in Gabrovo.
– Connecting students from different disciplines to the companies' challenges is an interesting concept. The challenge lies in reaching out to the companies and helping them formulate the challenges, says Iñigo de la Parra, researcher and teacher at the Public University of Navarre.
About CRE8®
CRE8® was developed as a concept by the Grants and Innovation Office at KAU, with funding from Vinnova, the Swedish state innovation agency. The first workshop took place in 2017 and since then KAU has conducted CRE8® events with challenges from researchers, start-ups, small, medium and large companies and public actors. Read more at Karlstad University web page.